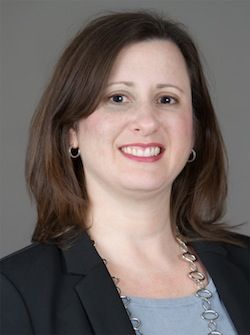 The Dr. Susan Love Research Foundation (DSLRF) today announced that Heather Cooper Ortner will join the Foundation as chief executive officer, effective February 1, 2014. Ms. Cooper Ortner comes to DSLRF from the International Myeloma Foundation, where she created a strategic and highly successful development program and managed day-to-day operations.
The Dr. Susan Love Research Foundation facilitates, conducts and inspires research into the cause and prevention of breast cancer. With innovative programs, such as the Love Army of Women and the Health of Women [HOW] Study, DSLRF challenges the status quo in breast cancer research.
"We're delighted to welcome Heather to the team," said Dr. Susan Love, chief visionary officer. "She brings a wealth of experience in management, community engagement and donor stewardship for research-based foundations.  Her proven track record in development, coupled with her expertise in developing and managing teams, processes and programs, will be tremendous assets as we take the Foundation to the next level. Heather's passion for our mission and proactive approach to leadership will be brought to bear as we expand our collaborations and focus our research for even greater impact in the coming years."
Ms. Cooper Ortner's career spans nearly two decades of service in the nonprofit community. She served as acting regional director to the American Israel Public Affairs Committee (AIPAC), director of development for the Venice Family Clinic, director of Western Area Development for Hadassah, and director of development for the Brandeis-Bardin Institute. She joined the International Myeloma Foundation in 2007, applying her strengths in leadership and program management to grow the organization's resources to meet research goals and needs. In 2011, she assumed additional responsibility for strategic planning and operations management.
"The Dr. Susan Love Research Foundation is an outstanding nonprofit organization playing a critical role in accelerating research to prevent a disease that takes the lives of 108 women every day," said Ms. Cooper Ortner.  "I look forward to leading the Foundation's continued growth and being part of the team creating a future without breast cancer."
About the Dr. Susan Love Research Foundation
The Dr. Susan Love Research Foundation's mission is to achieve a future without breast cancer by focusing on prevention and finding the cause. This will be accomplished by democratizing research to include the public's voice in the process, facilitating research through programs like the Army of Women launched in 2008 as a resource for researchers, and performing research through projects like the innovative Health of Women [HOW] Study, created in 2012 to identify the cause and cost of the disease through an online cohort.
The Dr. Susan Love Research Foundation, and its more than 375,000 volunteers nationwide, invite you to Act with Love and become part of a movement to bring the public voice to breast cancer research with the goal of eradicating the disease once and for all. To learn more and show your support, visit www.actwithlove.org.