As we head into October, I want to tell you about this great way you can support our work at the Dr. Susan Love Research Foundation.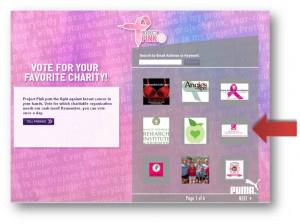 We have been nominated for PUMA's Project Pink program! Project Pink is PUMA's more-than-just-October initiative that puts the fight against breast cancer in the hands of its fans. PUMA will be donating 100% of its profits from the sale of Project Pink gear to the winning charity announced in October.
So, get on over to the polls and VOTE NOW! Supporters may vote once a day for their choice charity until the contest's conclusion on October 7th, 2011.
The Foundation's goal is to move beyond a cure and find the cause of breast cancer so we we can eradicate it once and for all!
Vote for the Foundation on PUMA Project Pink to help us achieve it!